As a braille signage specialist, this is something we get asked quite regularly by people who aren't too sure which version of the sign they need. In this article, we'll explain when you need to use a sign like this, and which one you'll need!
If you've ever walked through a building and seen an Accessible Toilet sign, you might have seen the letters 'RH' or 'LH' and wondered what they were referring to. Simply put, these letters indicate which side a person in a wheelchair will need to transfer on to the toilet, hence LH Transfer or RH Transfer.
LH Transfer (Left Hand Transfer)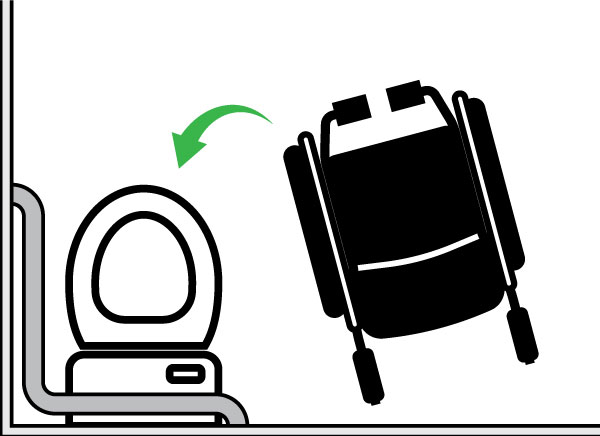 As the above plan view / birds' eye view image indicates, a person would need to transfer to their left hand side from their wheelchair on to the toilet. The grabrail is similarly located on the left, and there is sufficient space in the room for a person to safely and comfortably make the transition.
RH Transfer (Right Hand Transfer)
This is now self explanatory, as you can see in the above plan view / birds' eye view image that a person would need to transfer right from their wheelchair to the toilet, and the grabrail is positioned on the right.
So when do I need to use one of these signs? Can't I just say 'Accessible Toilet' and leave it at that?
Unfortunately no. If your building requires an accessible toilet facility, you are required by the National Construction Code to indicate which transfer side the facility is.
Hang on. What's the difference between an Ambulant Toilet and an Accessible Toilet then?
While an Accessible Toilet requires sufficient space for transfer from wheelchair to toilet seat, the Ambulant Toilet requires grab rails to be located on both sides of the seat, as demonstrated below.
These cubicles are more commonly located inside an existing male or female toilet block as they require less floor space than an Accessible Toilet.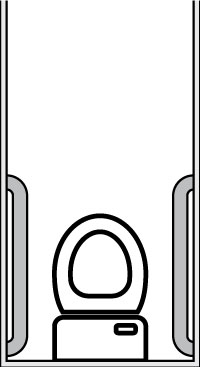 So there we have it!
Hopefully this article has cleared up any confusion you may have regarding transfers in an Accessible Toilet facility, and what the difference between an Ambulant and Accessible Toilet is.
See you all next time!